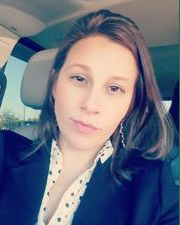 IRVING, TX & SIOUX FALLS, SD — Drumroll, please. The winner of the 2019 ATMIA Educational Scholarship Program is… Alicia Chance, CEO of Uptime Management Solutions.
Sponsored by TransNational ATM, the ATM Industry Association (ATMIA) and Triton's ATMGurus, the scholarship program is valued at $3,000 and includes a full conference pass to the 2019 ATMIA U.S. Conference at Disney's Colorado Springs Resort in Orlando, February 19-21. Airfare, hotel accommodations, transportation to and from the airport and reimbursement for meals while at the conference are all included. In addition, Chance will receive Board level membership in ATMIA for one year and will go to ATMGurus' comprehensive Retail Boot Camp ATM training at Triton's Long Beach, MS location. This will be Chance's first time to attend the conference.
Applicants for the scholarship had to provide both a written application and final recipients participated in a teleconference interview.
Chance has 12 years of experience in the ATM field, working with industry leaders such as Welch ATM and Cardtronics. A certified ATM technician and technical support supervisor, she has spent much her career focused on remote monitoring and maintenance, translating these skills to launch cost-reduction initiatives for independent ATM deployers (IADs) ‒ allowing them to better manage, maintain and service their ATM portfolios. She recently founded Uptime Management Solutions.
"It is an incredible honor to be able to provide Alicia with this opportunity. She will be able to meet and connect with people at the conference that will benefit her for the rest of her career," Debbi Haacke, President of TransNational ATM said. "We are committed to educating our ATM operators, and we know that Alicia will benefit from this scholarship and continue to make a positive impact in the industry."
"ATMIA is pleased to be able to cosponsor this scholarship and provide Alicia with the opportunity to enrich her education and career development," said Mike Lee, CEO of ATMIA. "In addition to meeting industry leaders, getting a broad look at the industry and seeing first hand many of the revenue generating opportunities available for IADs at our annual U.S. conference, Alicia will receive vital training from Triton on the entire line of retail ATMs being used around the world."
The largest ATM industry conference in the world, the ATMIA U.S. Conference includes a full day of workshops and two days of educational sessions covering a multitude of industry-relevant topics, from ATM security to asset management and innovations in payment technology. It also features the largest exhibit hall devoted exclusively to ATMs and self-service payments, with more than 100 booths.
"With so many applicants it was a tough decision," said James Phillips, ATMGurus Vice President of Sales and Marketing. "I'm very happy that Alicia will have the opportunity to attend the conference, explore the expo hall, be able to compare products and meet the people behind the companies who have revolutionized our industry as well as attending our Retail Boot Camp."
____________________________________________________________________________________
ABOUT TRANSNATIONAL ATM CORPORATION — Founded in 2008 and based in Irving, Texas, TransNational ATM is a leading ISO representing more than 3,000 ATMs in 40 states throughout the United States. Owned and operated by Debbi Haacke, a TransNational ATM is a certified female-owned company, which provides the company with unique opportunities for corporate and government bids. For more information, visit www.transnationalatm.com.
ABOUT ATMIA — ATMIA is the leading non-profit trade association representing the entire global ATM industry. ATMIA serves more than 10,700 members from over 650 participating companies in 67 countries spanning the whole ATM ecosphere, including financial institutions, independent ATM deployers, equipment manufacturers, processors and a plethora of ATM service and value-added solution providers. ATMIA provides education, advocacy and connections to help its members keep abreast of industry news and developments; increase knowledge and professionalism; improve operational efficiencies; understand and influence regulatory processes; participate in the local, regional and global ATM community; and forge new relationships to advance their businesses. Founded in 1997, ATMIA has active chapters in the United States, Canada, Europe, Latin America, Asia-Pacific, Asia, Africa, India and the Middle East focusing on the unique needs and issues of each region. For more information, please visit www.atmia.com. Follow ATMIA: LinkedIn, Twitter, YouTube.
ABOUT TRITON / ATMGURUS — For the most reliable and highest quality ATMs, smart safes with real-time tracking software, multi-brand parts and repairs, nothing beats Triton, VersaSafe and ATMGurus. A trusted name for almost 40 years, Triton continues with our partner companies to set new standards in the industry. ATMGurus is a multi-brand one-stop shop for parts, repair and training for all popular retail ATM brands with over 10 million in stock ATM parts and accessories. Learn more at www.triton.com or www.atmgurus.com.